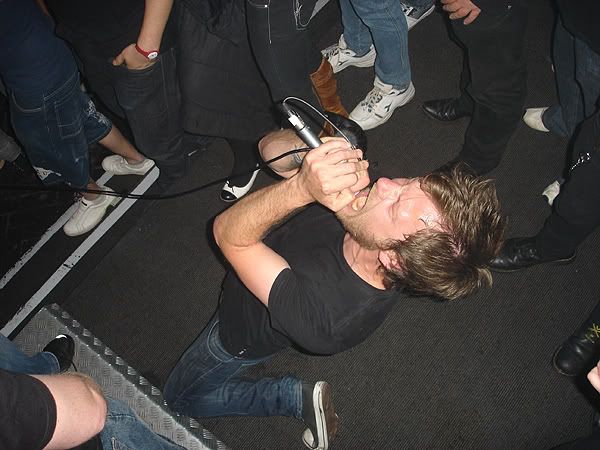 My Birthday +
Mammoth Mammoth
Airbourne
@
The Hi-Fi
, Melbourne.
HELLoween! 31-10-10
More a story of my day rather than a review of the gig.
I was up watching TV late into my birthday hours…then couldn't sleep after. Must have been awake until about 4:30am… then woken up by the munchkins singing me Happy Halloween Birthday!
Got very slowly into the day and dropped the family off at Doncaster. I was heading to the
Camberwell Record Fair
. Last time
Essendon
was on I had the kids with me and they don't quite seem to appreciate the subtleties of collecting vinyl and the hours of patience needed to flick through every crate.
I was stoked walking into the Box Hill Town Hall. The fair had moved this time round but I was actually pretty disappointed after. Essendon had a lot more goodies on offer. There were some definite highlights but from more of the usual bands like
Sex Pistols
,
KISS
and
Led Zeppelin
. I love those bands and collect their material but I go to these fairs to find that bizarre release you can't find on eBay or in other stores. Maybe it was that I went at lunch time and the great scores were all gone, but overall seemed a lot less desirable! Some of the stall holders had said they were cranking in the morning and it had died down at the stage I was there.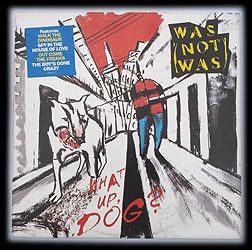 Scores of the fair:
Inxs
-
Good Times
and
What You Need
7"s (I already have these but not in excellent condition),
Devo
LP I didn't have (1988's
Total Devo
) and a
Glucifer
7". Also a few others that were bargains I have never heard but are on the
Ipecac
and
Sympathy For The Record Industry
labels so chances are they will rock. Best is to the left:
Was (Not Was)
's 1988 release –
What Up, Dog
. It has their best song on it, Dad I'm In Jail. Which you may remember from the legendary 1990
Pump Up The Volume
movie with
Christian Slater
and
Samantha Mathis
. The track is absent from the
soundtrack
, which I have and is awesome! I also have the track on 7" and the Was (Not Was) album on CD but scored the LP for the price of a coke! Love it!
You've got to check out the Soundwagon! I saw this on
Sweet Little Hi-Fi's
table at the record fair. Apparantly the world's smallest portable record player. This is way too cool!
Headed home for a few hours after picking up the family and was getting damn excited to be seeing my favourite Melbourne live band
Mammoth Mammoth
on the big stage! They've been touring Australia in the support slot with
Airbourne
.
As a birthday gift Mikey and the boys from Mammoth got me on the door and I was psyched. I rocked up to the Hi-Fi and there was already a crowd gathering outside not long after doors opened. I always feel cooler than necessary when getting to the door and letting them know my name is on the list. I never tire of that!
Grabbed a
Southern
and headed down the front. Couldn't find Mikey and chatted to one of the Mammoth crew and found out he was on the train on his way in, running late. How very rock'n'roll! Stood looking around and had a guy just start yelling out "Mammoth… Mammoth… Mammoth… Mammoth…." right in front of me and looking over with sheer excitement. After introducing himself he informs me he doesn't even know the band but if they're supporting Airbourne they must be awesome! We chatted and then all of a sudden there were complete strangers everywhere sharing their passion for music and swapping stories. Which then turned into me hyping the hell out of them and the group chanting for Mammoth to come out on stage. I was hoping one of the boys would walk out of the band room to hear the guys with me yelling their name! Hilarious. one guy, John, had driven all the way from Mt Gambier that day to see Airbourne. He'd been chatting to some of the Mammoth guys pre show outside and they said they'd been round Australia with Airbourne. He must've been tired from the drive, he thought they were groupies!
By the time Mammoth graced the stage, the Hi-Fi was pretty packed and by the opening riff of Another Drink the punters round me were already convinced that the Mammoth was mighty and indeed their Bigger Than Jesus – Louder Than Hell motto was true!
With glasses raised and devil horns thrown Mammoth did us proud and killed it! Every gig I have seen them it has been a smaller stage or not really a stage at all. When describing their live set to Mammoth virgins I always add that no one seemed to tell lead singer Mikey the stage has an edge. I wondered how the gap and barrier at the Hi-Fi would contain his utter contempt for all things confined. He didn't let us down. When a punch on broke out Mikey added to the excitement by going right in there and screaming his lungs out!
It was disappointing to see Gash stay up on stage though and not get out there and involved as usual. It's a bit difficult I guess holding a bass! Still, he went hard. The rhythm section of the band powers them forward and thrusts their now anthemic songs out to the punters. Bones beats the hell out of his skins and it looked like he went through a few sticks that night.
Cuz's flying V and rock star poses don't stand in the way of busting out the riffs. Over the years I've seen them he's seem to be rockin it harder every gig!
It was the perfect lead in to Airboune, balls to the wall rawk. Every gig I see Mammoth, there are the familiar faces but there are also always those newly converted. Their fan base is growing and the rock only gets louder! They are on the bill at
The Pony
for the 18th December with ex-Adelaide and now Melbourne's own legendary
Musclecar
, once again getting it on live and France's
Harmonic Generator
. This gig is going to be one of the year's highlights!
It was time to drink up and get another round before Airbourne came on stage. I had previously only heard a few of their songs and wouldn't have even known them if someone put their album on. The hype around the band is massive and their following especially through Europe seems bigger than some of their legendary 80's counterparts. My mate Xander had unexpectedly turned up and stood next to me! Hey! He was super stoked on the fact he was about to see them and those new mates around me were already going nuts! It was like I was in a washing machine of excitement bouncing of all their hyperactivity!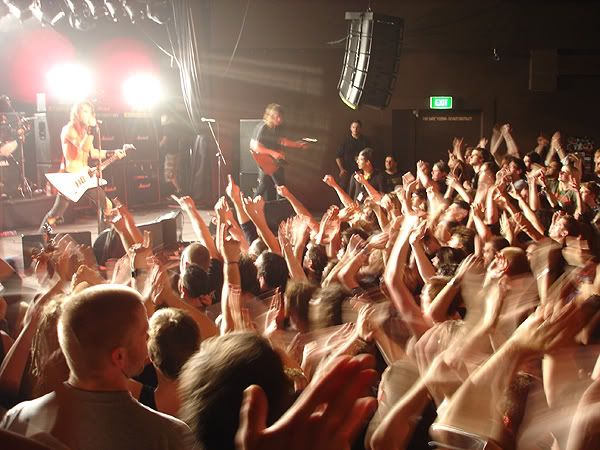 I was at the bar when Airbourne hit the stage. It was like a hail storm off in the distance racing up to your windows… the roar from the front then raced to the back of the room and nearly flung me over the bar! It was enormous! They came out guitars a blazing with the power of an entire country behind them! The drum rise was nearly as high as the upstairs balcony framed by walls of
Marshsall
stacks. When I say wall it is literal, then they were also mic'd up to the venue sound! It was mighty! Props to the mixer, their was a shitload of sound coming out of that joint but it was clear and kick arse!
Airbourne blew me away! Their energy is instant and unrivalled. From the onset they didn't stop until they left the stage. For a band that seems to tour non-stop I don't know how they keep it up. The only way I could describe them succinctly would be to say they are like
AC/DC
on speed and in constant fast forward!
When bassist Justin went over to turn a knob on his amp, I assume it was to make it louder, the wall seemed to move… geez dude, be careful! You don't need a flattened bass player mid set!
They ran around the stage with more enthusiasm than me at a record sale and didn't stop! Boosting up off the drum rise and lauching themselves into that perfect rock star pose mid air and crashing down right on an arm swinging power chord strum!
Lead singer / guitarist Joel reminded me of a blend of a running guitar crazy
Angus Young
with the looks and rawk of Blackie from the
Hard-Ons
. Love how he opens his beers, smashing it against his head until it sprays out over everyone! He jumped down off the stage and rocked out up to the mixing desk and jumped up playing in the spotlight! Frenzy surrounded him and the arms threw up the devil horms once more!
Airbourne are tight and killers musicians with perfect showmanship, they've got the entire package. That's why Mammoth were a great opener. Both sets were energetic, rockin and both bands know how to put on a show!
Joel cracked open a bottle of wine but let us all know that S.A. have some great wine but they can keep it, we've got
CUB
!!!
Mid song after they came back out for an encore they broke out into a few riffs of
Black Sabbath's
Paranoid
and that was it! The walls blew out and the roof got torn off tornado style! Airbourne are a force to be reckoned with and have definitely left me wondering where the hell have I been and why haven't I been Airbourne before?
While onstage, Joel had invited everyone back to the
Cherry Bar
. After, Mikey thought we should get there straight up in case they lock it down. He then tells me that he lost his pass in Adelaide and they might not let him in if the Cherry is full… like the bouncers nearly didn't for tonights gig!
I met some cool people that night. While walking down Flinders Lane to
AC/DC Lane
I was chatting to Cowboy James, as he's now known to me, cool guy. Met some friends of Mikey's, Chris and Leanne. Amazing folk. Absolutely cool as. Turns out Chris is not only an amazing photographer (check out his
site
) but also lived in Erskineville in Sydney same time as myself and we both share a love of Brontosaurus Burgers! If you were there during the mid 90's you will know. If you weren't, these burgers were the size of one of Fred Flintstone's prehistoric T-Bones and tasted like heaven in a bread roll! We used to call up and order one 15 minutes before the X-Files started and then walk literally a couple of doors down to pick it up. They rocked! Never been a better burger!
I got a special birthday ushing through the door and into what seemed to be the emptiest I have ever seen the Cherry. It didn't take long before it filled with those about to continue to rock!
One minute I was standing there drinking at the bar with some mates and the next Xander is round the other side spinning vinyl… what the hell happened there? I know that time can skip when you've been drinking but it was more like someone just shifted the bar instantly between us!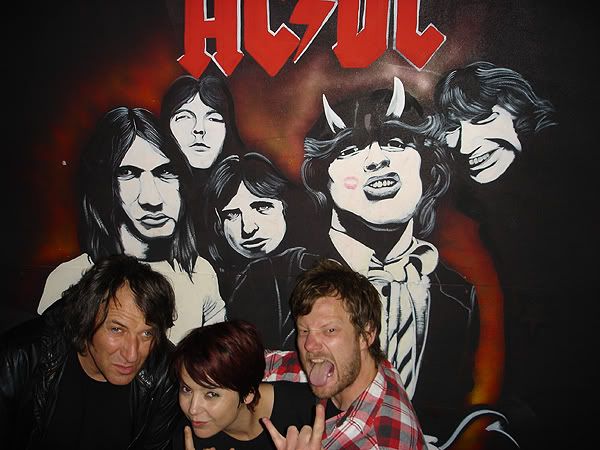 After last drinks at 3am we stood out in the laneway talking. What a night. My highlights were definitely seeing Mammoth rockin out, meeting the Airbourne sound live, chatting with Frank about old school skate and sharing life long stories with new friends. Mikey thought I was a big Airbourne fan and seemed somewhat amazed that I wanted to go to the gig mainly just to see Mammoth on the big stage! Well I'm a massive fan of Airbourne now but I'm also just obsessed with shit-hot rock! I asked if Airbourne were even inside... "yeah". "Oh..." I hadn't even been paying attention and done the groupie thing. Definately not like me... oh well, it was still an awesome night!
I know sometimes I blame my camera, it seems all of my nights photo's are out of focus but so was I!
We cabbed it to Chris and Leanne's to share in some old school
Jameson's
whiskey and chat. Very giving and sweet folk. Loved meeting them. Then Mikey and I walked off talking about the night in search of another cab to get us the final miles home. After dropping him off first and getting out, it almost felt like my big brother was watching over me, "You look after this guy" he let the cabbie know… too funny!
I arrived home at 4:45am-ish, unsteady and trying to type in the darkness leaving a Facebook update of the night. The light of the monitor was blinding and trying to spell even more of a mission to get correct than sitting upright!
When I fell into bed with my legs tingling, it was 5:30am. I was lying there trying to forget about the hellish ringing in my ears and must have had one those roaring yawns for about half an hour. You know the type where your entire body trembles and quakes. Then I must have just passed out from the journey.
I finally got up and stayed up for the day at about 3:30pm. It was like someone had cheese-grated my throat and run over the top of me with a road-train.
It was a massive day and one of the best birthdays I have ever had! The only disappointment, my Holly wasn't there alongside me through all the crazyness!
| | |
| --- | --- |
| Mammoth set list - front. | Mammoth set list - back. |
| Airbourne set list. | Guys tatt in front of me. |
Check out my
Facebook
for more photo's of the gig...