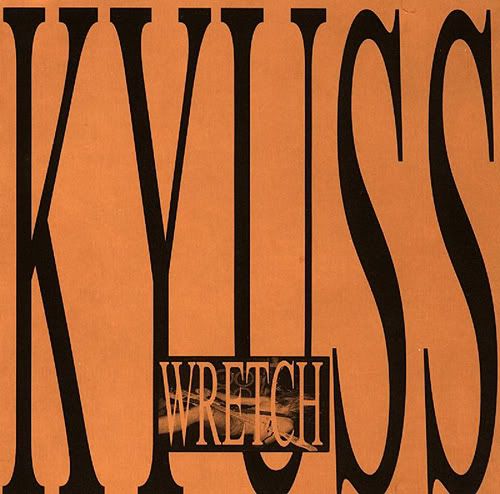 Sometimes the moons are aligned and you meet your future wife in a nightclub in a second rate town, but that's another story for another time. Sometimes they are not.
When Kyuss supported Metallica during their 1993 Australian tour and they played Sydney, where was I? I was in Sydney. Did I go? No. Did I know that Kyuss was supporting? No. How did I find out? The next day a mate who went told me they played.
I have seen QOTSA every show they play in Melbourne when they tour, I have seen all the Nick Oliveri gigs and Mondo Generator shows, have seen Brant Bjork a couple of times, saw both TCV Melbourne shows, seen Fu Manchu, Eagles of Death Metal & Mark Lanegan.
I have heard Nick play Love Has Passed Me By and a few others live, Mammoth Mammoth play a legendary Aussie pub rock version of Green Machine.
I have never seen Kyuss and nothing will ever compare to seeing them play live! Which line-up? Well it really wouldn't matter would it? Every album kicks arse! Every member is awesome! My favourite release is Wretch. The guts and gritty rawness that screams out of that can't be beaten.
When I first heard and then saw the footage of Garcia Plays Kyuss, I thought, surely we're getting closer to seeing Kyuss grace our stages once more. Now it definately seems like it's going to happen! John Garcia, Nick Oliveri, Brant Bjork and Bruno Fevery (Arsenal). Where's Josh Homme...? Add your own speculation but no matter what the line-up it still isn't 'Kyuss' without Josh. He is
the
man on guitar and no one can contest that. Still, seeing those three Kyuss members upon stage and rockin out some bass driven heavy grooves is fuckin awesome!
As some have said "Best Kyuss cover band you will ever see"!
I think to make it perfect and it would clearly never happen... is to have every member of Kyuss tour. Start with Sons of and work their way through from there. As each line-up changed for each release, the band changes on stage. Then all out for the finale jamming out some Black Sabbath or something! Yeah, whatever, I can dream!
I would love to see Scott, Alfredo and Cockrell all rockin out as well!
Tour for Kyuss Lives is meant to be set for March / April 2011 through Europe / UK. At this stage nothing has been mentioned about the U.S. or of course Australia, please don't forget us!!!
Taken from the
Rekords Rekords
forum...
mar 11 Bergen, NORWAY Rökeriet
mar 12 Oslo, NORWAY Rockefeller
mar 13 Stockholm, SWEDEN Debaser Medis
mar 15 Hamburg, ., GERMANY Docks
mar 16 Berlin, GERMANY Columbia Halle
mar 17 SAARBRUCKEN, GERMANY GARAGE
mar 18 Basel, SWITZERLAND Z7
mar 19 München, Bayern, GERMANY Backstage Werk München
mar 20 Budapest, ., HUNGARY Gödör
mar 22 Wien, AUSTRIA Arena
mar 23 Milano, Italy, ., ITALY Live Club
mar 24 Frankfurt, ., GERMANY Hugenottenhalle
mar 25 Paris, FRANCE Elysee Montmartre
mar 26 Athens, GREECE Fuss Club
mar 27 Brussels, BELGIUM AB
mar 28 Cologne, ., GERMANY Live Music Hall
mar 29 Amsterdam, ., NETHERLANDS Paradiso
mar 31 Nottingham, ., UNITED KINGDOM Rock City
apr. 1 Wolverhampton, ., UNITED KINGDOM Wulfrun Hall
apr. 2 London, UNITED KINGDOM The Forum