What is it about vinyl that we love?
You can cover your floors with it, your couches, wear it as a jacket or rock out in it in some tight black pants, but there is nothing better than spinning the flat round style and listening to the warmth oozing out of your old
Marantz
.
It's how
Syd Barrett's Madcap Laughs
was meant to be played.
I've been collecting vinyl since I was a kid. My older brother got me hooked and into some great bands. Being a seven year old and rocking out to
KISS
and the
Sex Pistols
is pretty cool I guess. There were also the contrasts of
Michael Jackson
and
Pseudo Echo
!
First vinyl passion though really grew from
KISS
. To this day there still isn't a more amazing catalogue of LP's to hold in your hands than theirs. The make-up, gatefold live arena shots, flames and rock'n'roll wizardry is awe inspiring to young eyes.
On and off over the years I bought little additions but it really wasn't until the 90's when I started getting completely obsessed. Funds and other passions like collecting skate decks and actually getting out to gigs over the years has slowed things down a little here and there but just like the force, the passion always grows stronger.
The 90's saw the emergence of some ground breaking sounds for me personally as well as on a global scale. It was bands like
Kyuss
and all the associated releases that came with it and that the
Red Hot Chili Peppers
became more easily accessible. I started listening to them during the late 80's but living in a country town made it pretty near impossible to get your hands on anything. As I seemed to be one of the only fans of the band in our town for a few years and had a big collection of RHCP t-shirts that I wore every day, people knew me as the guy in the Red Hot shirt. How shattered was I when we went out leaving washing on the line and returned home later than we thought at night and four of my favourite Chili Peppers shirts were stolen! One of them a long sleeve t with the four BSSM Peppers in a black and white photograph I used to wear every night I went out. It wasn't about being cool with the latest trends, it was all about educating the rednecks in our town! That was in about 1991, to this day I still have issues with leaving washing on the line. I probably should speak to someone about that...
Australian bands that blew my mind that were not only playing sets so original and energetic but also their releases had some of the greatest artwork printed. Bands like
The Meanies
,
Hard-Ons
,
Hellmenn
,
Tumbleweed
and my all time favourite Australian band,
Magic Dirt
.
I was living in Sydney at the time and a friend said you've got to come along to see this band, they're from Melbourne. I was wearing a t-shirt when we left home that said "I Hate School". After seeing their feedback driven chaotic and mesmerising set, when I got back home my life had changed and I added "but I love the girlie from Magic Dirt". I pretty much harassed the staff at the local record store every day until
Signs For Satanic Youth
finally hit the shelves.
There is a lot about music I love, listening to it, seeing bands live, collecting memorabilia, writing about it, playing guitar. It's part of who I am. I am no rock star. Although I always thought I was destined for that, or to at least release some random 7" sporadically with guests like
Lee Ranaldo
and
John Frusciante
, but alas it's never going to happen. Part of what drives my passion is my love of vinyl. There is something sweet and romantic about holding it in your hands. Opening the seal, turning it over and reading the tracks, opening the gatefold, pulling out the insert, sliding out the LP, flipping it over to Side A and placing it down gently like a sleeping child onto the felt. Just like a sleeping child, that doesn't last forever and once the needle hits the vinyl, that first strum, the first bass drum, the first ohhhhh YEAHHH that breaks the silence, it's an adrenaline rush! It's like hearing the words I love you right back for the first time. Am I going too far? Well, that's what an obsession is… right?
I would have rooms, houses, warehouses of the stuff if I could. I don't have hardly any compared to some people I know, other collections I have seen, but it's not a competition. It's for the thrill of owning it, of sharing what you love with others and seeing them pull out their favourite 10" and telling you where they were when they first heard the band, how they got their hands on this little rarity and how during the second verse you can faintly hear someone cough in the background. That's awesome.
If I love something I want at least two of them. A CD to play all the time and vinyl because there is no substitute. I am not like all vinyl lovers; I don't play everything, that's what I have CD's for. If it's new and sealed, it may stay that way. I am a completist and want everything. If it's released in 17 colours across 42 nations, I want them all. Why wouldn't you? Promo releases, different track listing font, barcode in another spot… for sure! Bootlegs, yes, unfortunately the money doesn't go to the artist's that create the sounds but I still have to fill those gaps! And don't get me started on test pressings… I only have a few and have missed loads of opportunities to get more and even a few stampers!
I thought I would write a little about some of my favourite pieces of vinyl. Might be about the band, sound, guitar technique or artwork, just a little to share my passion for what really does make the world go round, music. I am not sure where it will lead but I'm just going to see what happens. I've met some amazing musicians over the years, some I chat to regularly, some internationals just when they get out to tour and some I will never have the chance to, what they create keeps a lot of us going. There are loads of bands I love. Some I obsessively collect, some I might only have one release and some I just haven't bought anything as there is only some much you can get and have to hold back somewhere. To all the solo musicians and bands out there… lml Rock.
---
Like listening to, I write about music for the love and passion of it. You probably know all of the releases I have written about. This is for my own memory and enjoyment as well as hopefully for yours. There's probably a few mistakes and pieces of incorrect information, but it's not a test. So if there is, just go with it and enjoy the ride.
---
I guess we'll start here then...
Syd Barrett - The Madcap Laughs + Barrett.
Double Gatefold LP.
Harvest
- 1974.
(Both originally released as separately in 1970).
Roger Waters
said it perfectly when he wrote "
Shine On You Crazy Diamond
" in 1974.
Pink Floyd's
tribute to their former band mate & founding member. Syd is completely out there on his own. I fall right into his sounds. The delicate strums and tender words softly sung through to the can't-stand-still jittery tempo's that can be flighty and nonsensical to the average listener. I love how you can hear everything that's happening. It's like you're sitting there in the lounge room on the floor barefoot as he's recording Terrapin. Smoke bellowing over head as you hear each pick stroke and fret movement on the strings. The gentle hum of recording to reels and then pressing it is warmth and honesty at its purest on vinyl.
---
Most treasured.
John Frusciante - Estrus.
7".
Birdman
- 1997.
John Frusciante is my all time favourite guitarist & singer / songwriter. You only have to hear his first two albums,
Niandra Lades & Usually Just A T-Shirt
and
Smile From The Streets You Hold
to know that. Written at a low point in his life after leaving the
Red Hot Chili Peppers
during the Japanese leg of their world tour in 1992. Not cool considering Australia was their next stop and it was to be the first time on our shores! After growing up and learning
Jimi Hendrix
and
Hillel Slovak
guitar parts and techniques to perfection, life certainly did imitate art. After Frusciante got to know Hillel, one of his idols, Slovak tragically died in 1988 from a heroine overdose. Frusciante joined his favourite band and the next two subsequent albums, 1989's
Mother's Milk
and 1991's
Blood Sugar Sex Magik
threw the band into a tornado of international success. How does one cope with taking the place of one's idol and then co-creating BSSM, one of the greatest albums of all time...? Have a breakdown and live as a recluse in a heroin haze. This 7" was released during that phase of his life. His first two albums are my favourites. They are far from coherent at moments, scattered and I'm sure he wouldn't have known what was happening half the time, but the honesty, lack of walls and his abrasive vocal style drew me right on in. Estrus, released on 1997's Smile From The Streets You Hold as Estress, was only pressed as about 400 - 500 units and usually pretty hard to find an original copy.
---
Shameless plug.
Dern Rutlidge -
All So Lonely.
7". Stolen Records - 1997.
Dern Rutlidge - Sky Blue.
7". Death Valley Records - 2000. Split with Warped - Zone In, Zone Out.
Like everyone that has a passion for music, there have been loads of bands I have really dug and bought their albums. Like a lot of interests, music flavours change and bands can come and go from your attention. "I like your old stuff better than your new stuff" syndrome... members come and go, sounds change, whatever it may be. Some bands though grab your attention and never let it go. Towards the end are some stores that I wanted to plug and thank and one of those I speak of is Skinnys in Brisbane. They got me into Dern Rutlidge back in 1997. The band's earlier material was thrown into the stoner melting pot with tracks perfect for a blown out road trip. Always unique, though by their year 2000 release, Johnny No Stars, they had grown into their own no bullshit, balls in your back pocket, blend of rawk. Crictically acclaimed and recieving rave reviews, this album is one of my all time favourite releases from any band. Check out
my review
from the vault. Following the band's career lead me to other projects, including singer / guitarist
Craig Westwood's
solo work. There are so many musicians that don't get the recognition they deserve. Either through not going after the limelight themselves, not being in the right place or whatever it may be. Craig's solo material is well written, subtle when it needs to be and kick arse when it's called for. Down the track after Jeremy, founding member of
Budd
(one of the greatest bands to produce consistent low end heavy grooves from the 90's) moved to Melbourne, Craig filled the space for a bassist. Then more is added onto the discography pages of one of Australia's most underated songwriters. For me where it's at for songwriters is
John Frusciante
,
Lee Ranaldo
,
Thurston Moore
,
Adalita Srsen
,
Syd Barrett
,
Kurt Cobain
,
Josh Homme
,
Nick Oliveri
and
Craig Westwood
.
---
Gatefolds.


KISS
-
Alive II
.

Double Gatefold LP.
Casablanca
- 1977.
The Jimi Hendrix Experience
-
Electric Ladyland
.

Double Gatefold LP.
Polydor
- 1968.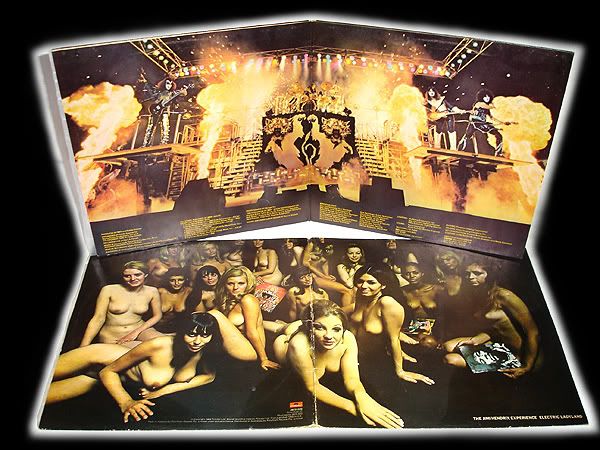 As well as both of these release being mind-blowing musically in their own right. Visually these two stand out from the crowd. Gatefold's really need to be impress and some bands just don't seem to utilise the space. KISS was the first band I really went crazy for and when you open that gatefold, that live shot is a wondrous thing. The pyrotechnics and explosions on the stage, Paul mid strum, Ace pointing at the photographer, Gene's typical stance of tongue out looking evil and Peter on the biggest drum rise you have ever seen adorned by wild cats with spotlight eyes! Electric Ladyland, well, do I need to really go into that? The cover that apparently Hendrix never liked. As the label didn't like his idea, they went with their own artist. Outside of the sleave adorned with naked women, there is no other reason to buy an album. Lucky it's a good one as well! I am a fan of old school pinups from the 60's and 70's so if I could I would plaster my walls with this image. Whilst cruising down Johnston Street one day in Fitzroy I was in love. There up on the side of a building was a massive double billboard poster. Hendrix' ladies and written right across the top in lettering the size of a semi-trailer
MAMMOTH MAMMOTH
. One of my all time favourite album covers and Melbourne's rockinest live band. It was beautiful!
---
Pop-up Gatefold!


Red Hot Chili Peppers
-
Higher Ground
.

12".
EMI
- 1990.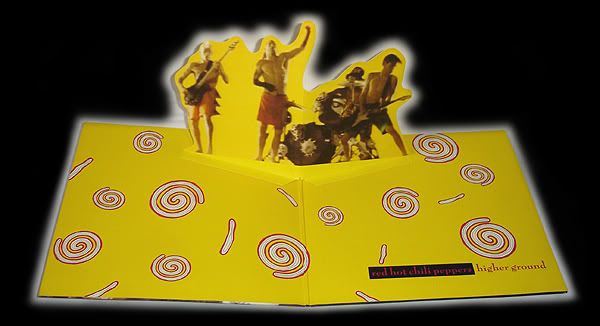 Higher Ground is one of the most amazing covers to leap into our ears. Originally released by
Stevie Wonder
in 1973, the RHCP version is from 1989's
Mother's Milk
. It's a hyperactive craze that gets you the hell up out of your chair and thrashing around! I'm sitting here listening to it as I type and can't sit still! The blend of
Frusciante's
frantic guitar and
Flea's
funky arse bass are addictive. They released this in some amazing vinyl formats. The film clip is also a stand out! When I wandered into
Red Eye Records
in Sydney, where I've picked up some amazing releases over the years (unfortunately not for quite a few years now), the first letter I always checked was 'R'. This track had not long been released but I didn't even know this format existed. Imagine my eyes popping right out of my skull and the smile on my face hitting the walls on each side of my head when I opened the gatefold and the Chili Peppers jumped up out at me! This is freakin unbelievable and I've never seen anything quite like it since!
---
Picture Discs.


Red Hot Chili Peppers
-
Knock Me Down
.

12".
EMI
- 1990.
Red Hot Chili Peppers - Higher Ground.
12".
EMI
- 1990.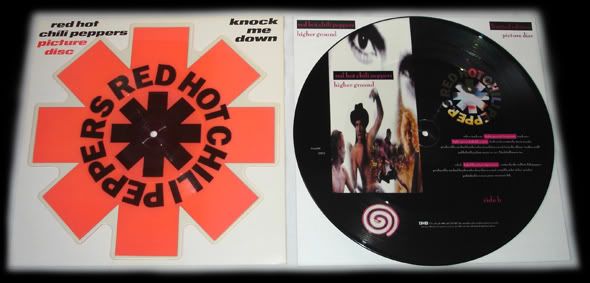 These are some of the first picture discs I ever bought and two of my favourite's. Being from my all time ever favourite band is a plus! (up to a certain era...) Knock Me Down spun me out that the symbol was cut out of the vinyl. That RHCP symbol used to be all over my house, on every t-shirt I wore, to hold one cut out of vinyl is extremely cool! Higher Ground, as I said, one of the greatest cover's of all time and especially the Daddy-O mix, is trippy as hell to see the lop-sided spiral spinning round on the turntable! Who needs hallucinogens?
---
Coloured vinyl.


Unida
- Coping With The Urban Coyote.

LP.
Mans Ruin
- 1999.
Unida
-
The Best of Wayne-Gro
/
Dozer
-
Coming Down The Mountain
.

Split 12".
MeteorCity
- 1999.
Unida, Coping... especially, is one of the most kick-arse riffed up pieces of fuckin rock you will ever bust your balls to. From start to finish the energy and pace, the riffs and strength of this band is evident. Then to add that to the fuzzed-out bliss and rolling thunder of Dozer on the Split 12" is best thing MeteorCity have done. When you first buy a new release and it's still sealed and may-be even stickerless, the excitement that goes through your veins is massive when you slide out the LP and see it's some mind expanding white marbled coloured vinyl. I have plain colours, simple splats, two-tones, clear colours, even etched, all sorts but these two Unida releases remind me of art class at school when you'd put paper on a pottery wheel and pour or flick paint at it, of course this is mixed with acid!
---
Inserts.


Dead Kennedys
-
Frankenchrist
.

LP.
Alternative Tentacles
- 1985.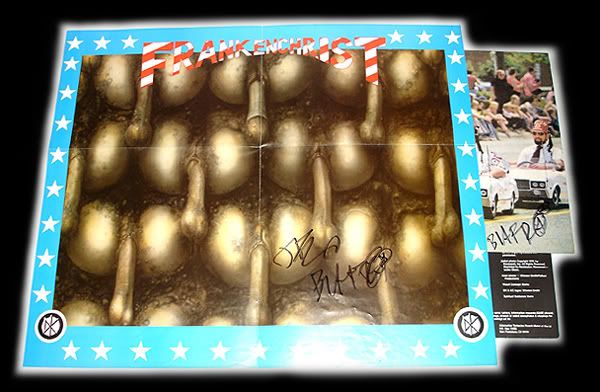 The DK release that pretty much broke the bank.
Jello Biafra
is clearly the lyricist and frontman but for me it's
East Bay Ray's
guitar that tells the story. I don't have much of his work but he really impresses me with his style. Today I was listening to
Rimitti's Sidi Mansour
album. I haven't heard it for years. Features
East Bay Ray
,
Robert Fripp
and
Flea
. Check it out. Some of the inserts in releases are cheap and nasty (which to be honest I love!) and some are pieces of art. A foldout poster of
H.R. Giger's
Penis Landscape
was included originally in Frankenchrist. Apparently censorship was the new good and freedom of speech and art was the new evil. After being sued Jello nearly lost Alternative Tentacles. He came out to Australia to do a spoken word tour in 1995, with
Damien Lovelock
(of
The Celibate Rifles
)as support, which I thought beforehand was pretty strange, but he was funny as hell and a great story teller himself. Jello's spoken word show was amazing. Some great insights into all sorts of things that we'd need to create its very own blog to cover, but it went for something like 2 1/2 hours from memory. We were sitting up towards the back of the
Enmore Theatre
in Sydney and by the end of the show I couldn't feel my arse. Looking down at the Jello by himself on stage, he was shimmering like the road ahead on a hot summer's day. I had the opportunity to meet him so had to get the Giger poster signed. Awesome guy. While we are talking about Jello, if you don't have his 1991 collaboration with
No Means No
,
The Sky Is Falling And I Want My Mommy
, do yourself a favour.
---
Little oddities.


Red Hot Chili Peppers
-
Taste The Pain
.

7" (and a bit).
EMI
- 1990.
Kyuss
-
Sky Valley
Part 2.

Single sided Promo 12".
Elektra
- 1994.
There are loads of random little oddities out there. Like the
Mudhoney / Gas Huffer
split 7" saw shaped vinyl. Released in 1992 on
Empty Records
and pictured with the above Ninja! The Red Hot Chili Peppers Taste The Pain release pictured is the first I ever saw as a square. It's not quite a 7" and too small for a 10"... crazy! Kyuss, well there is nothing better than their brand of bass-driven heavy grooves and some say Sky Valley was their best release. Personally there is nothing greater than the rawness captured on 1991's
Wretch
. Check out my old school
review
from the vault. The Sky Valley Part II promo is also another first for me, seeing a one-sided vinyl release. The entire album, Welcome To Sky Valley is broken up into 3 parts with a hidden track. Although it consists of 10 songs. This vinyl promo features on one side Part II which includes tracks 4. 100°, 5. Space Cadet and 6. Demon Cleaner. On the flip side, nothing but smooth untouched vinyl.
---
Make & do.


Red Hot Chili Peppers
-
Taste The Pain
.

12".
EMI
- 1990.
Red Hot Chili Peppers
-
Higher Ground
.

12".
EMI
- 1990.
Anyone would think I'm a Chili Peppers fan or something?!? My intention wasn't to include so many of their releases and there's so many more from other bands that I easily could have, but how can you pass up this stuff! Again, first time I had seen anything like this, perforated covers to punch out parts of the sleeve and make your own 3D Red Hot symbol or Chili Pepper! Crazy crazy stuff! I love unique randomness in vinyl. The Chili Ppepers have so many releases like this from the old days...
---
Hand drawn creations.


Alice In Chains
-
Dirt
.

LP.
Columbia
- 1992.
The good ol' days of staying up late, getting drunk and going nuts to
RAGE
. When it was new and kick-arse or ol' school legendary classics. RAGE intoduced me to some amazing bands,
Neds Atomic Dustbin
,
Carter USM
,
Jane's Addiction
, loads of bands, including Alice In Chains.
Facelift
blew me away! The haunting pain of
Layne Staley's
lyrics and
Jerry Cantrell's
guitar riffs, awesome. When Jerry Cantrell and
Sean Kinney
came out to Australia on a promo tour, I was living in Sydney at the time and they were doing a signing in Parramatta at HMV or Brashes or something similiar and bizarre. It was great meeting the guys. Their 1992 tour is still one of the greatest and scariest I have been to. The mosh was an insane whirlpool. When the first song kicked in, the whirlpool circled in on itself and I spent that song or so on the bottom of a pile of people just holding my head and yelling "FUUUCK". It was awesome. When I reached the guys and handed them Dirt, they added what was clearly missing on the cover to make it truly rock... an eagle and boobs. I also handed them
SAP
(which I wont go into but it is one of their greatest releases, click the link if you don't know it) which spun them out and they were blown away that someone in Australia had it and were pretty stoked. They asked me how I got my hands on it. I can't honestly remember now. When you meet one of your favourite muso's, it's cool. When they sign something it's even better. When they are stoked on what you're handing them and draw boobs on the sleeve, that's rock'n'roll! Layne, you'll always be the man.


Hard-Ons - Live in 2005.

7".
We Empty Rooms
- 2010.
Geez, talk about packaging! The Hard-Ons have kicked arse with this, their latest 7". I'm going to just be lazy and copy and paste from the Hard-On site from July 2010 because that just says it all...
"Our LIVE IN 2005 four-track 7" vinyl (out through WE EMPTY ROOMS hippie collective) is selling very very fast. All the hand-drawn cover editions (70 made) are gone. There are a couple of hundred regular versions available. 500 were made in all. Each one is on black and white marbled colour-vinyl. Each one is hand-silk-screened by young patchouli-oil scented men in a bedroom in Brunswick. Each one is hand-numbered out of 500. Each one has sheets of toilet paper included in case you shit yourself after listening to it. The whole thing comes with bits of propaganda and stickers inside a custom sealed brown paper bag!"
---
Just stoked.


Doug Anthony All Stars
-
Icon
.

LP. 1990.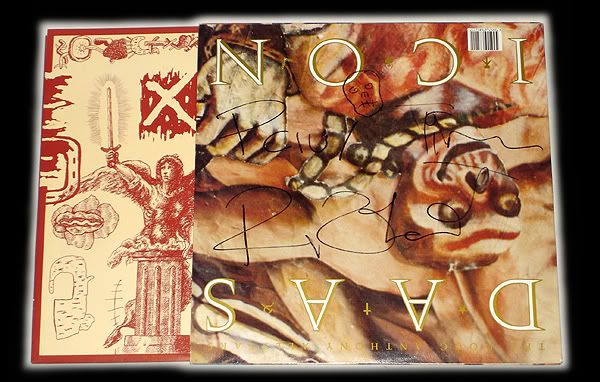 The greatest comedic act of all time. Obnoxious, indecent, disgusting, controversial. Exactly how comedians should be.
DAAS Kapital
, their
ABC
series ran during 1991 and 1992. It was completely random and didn't make much sense. I mean, seeing
Tim
chatting up a blow-up dingy and flicking the hard plastic rope rings as if they were nipples was pretty out there. Hilarious. I saw them live a few times. One show, while I was living in Port Macquarie, was at the RSL club in the auditorium. The room was pretty empty and everyone moved right down the front and sat on tables and chairs. One of my friends parents were there and were the oldest in the room. After a barrage of insults from DAAS they got up and left. You came to expect that from them. During one of their last shows at
The Footbridge Theatre
, I went with some friends and the love of my life who didn't really know what to expect from a DAAS live show. So I made her sit in the aisle, you know, just in case. Slack yes. Lucky for me, nothing happened, to her... The guy in the front that was getting continual heckles from Paul ended up being lunged at with the outcome being what seemed to be Paul's tongue down his throat. Afterwards, I had to get something signed. I idolised these guys. Waiting around, I was the only male standing in a bunch of shorter girls and Tim turned and looked straight at me and said something like 'aren't you cute'. Got a few things signed over the years, posters, their 1989 book called ummm "Book" and the above 1990 LP Icon. Yes, the LP is upsidedown! I might have poor editing skills (of course blamed entirely on the lack of up to date programs) but I put it that way to see their signatures. I am stoked to have this. One of my prized possession in my vinyl collection. Long live DAAS!
---
Great Memories.


Devo
-
Freedom Of Choice
.

LP. Warner Bros - 1980.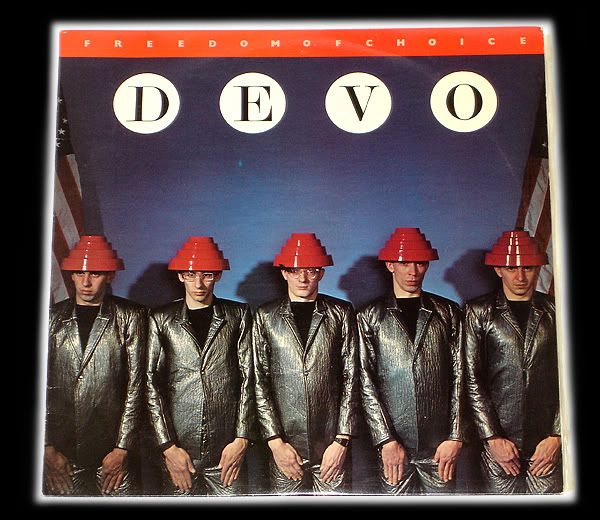 I grew up in Wagga Wagga. When I was 2 we moved into one of the only houses in an area that was to become a surburbia of sorts. It was awesome. We knew everyone in the area. We looked after each other's pets when families went on holidays and got to swim in their pools when ever we wanted. All the kids mucked around together, no matter what the age difference. When a mate that lived down the end of our cul-de-sac a few years older than myself got his first car, it was awesome. Freedom for him and I got to cruise to school in a Kingswood instead of the ol' dodgy school bus. He did get the usual second hand beast, so sometimes I would have to push start it! We would listen to different music and one of the bands that he really gave me a deeper appreciation for was Devo. They have continued to be one of the staples in my musical diet. Quirky strange at its best!
---
Test pressings.


Soundgarden
-
Earache My Eye
.

7".
Alabama Thunderpussy
.

Bonus 7".
Relapse Records
- 2002.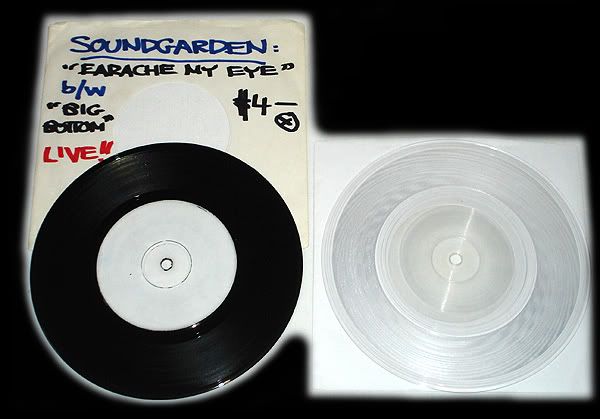 Test pressings are like the holy grail of collecting. Scoring one of your favourite releases as a test pressing... wow! It could be 1 of 2, 1 of 6. I have rarer one's than these listed but have included the above just out of interest sake. I don't really know much about these two 7"s at all.
Soundgarden.
Kim Thayil's
riffage is monstrous.
Chris Cornell's
vocals have more octaves than hours in the day,
Matt Cameron's
thundering drums and
Ben Shepherd's
driving rhythms set the groundwork for what are some of the largest songs on earth.
Jesus Christ Pose
live is definately a religious experience. As you can see on Earache My Eye (originally written by
Cheech and Chong
in 1974) it was bought for only $4. I have no idea if it's offical or a bootleg. From what I gather it's a boot, but a $4 test pressing boot by Soundgarden is awesome. The vinyl itself has plain white label's on both sides and it's just a plain white sleeve. Luckily someone had the intelligence to know what it was and to write on the sleeve! Best cover version ever... Soundgarden doing
Devo's
Girl U Want
. It's included on the 1991
Badmotorfinger
limited bonus disc
SOMMS
.
The Alabama Thunderpussy 7" isn't actually a test pressing. It came as a bonus with the first 1000 copies of their 2002 Relapse release
Staring At The Divine
. I included it here as an example of how blank test pressings can be, although it technically isn't. I have seen friends test pressings as blank as this but other than the Soundgarden 7" the others in my collection have atleast pen or texta hand writing on the white labels. The Alabama vinyl is clear, no label, plain white sleeve. You can't even tell what it is until you hold it up to the light and read the band's name and catalogue number very lightly etched around it's centre. Even the etching is pretty hard to read!
Keith Levene.
Keith Levene
&
Hillel Slovak
- Clothesline.
7". Overzealous Editions. 1990. Split with
Kendra Smith
.
Keith Levene -
Looking For Something
.
12" EP.
Taang! Records
- 1988.
Keith Levene -
Looking For Something
.
12" EP. Test Pressing.
Taang! Records
- 1988.
Titled as Keith Levene's Violent Opposition on the 12", this release is called the Looking For Something EP. Featuring
Flea
& Hillel Slovak (
Red Hot Chili Peppers
),
Bob Forrest
(
Thelonious Monster
),
Norwood Fisher
(
Fishbone
).The tracks from this EP were later also added to the actual Violent Opposition album released in 1989. The single
If Six Was 9
dedicated to the memory of Levene's friend and fellow collaborator Hillel Slovak. I picked these up due to my love for all things Hillel, added bonus that Keith Levene is a legend himself. Early member of
The Clash
,
The Flowers Of Romance
and founding member of
PIL
with
John Lydon
. Hillel was an amazing guitarist and the one that originally drew me to the
Chili Peppers
. The first song I heard was Black-Eyed Blonde from their 1985 release
Freaky Styley
. I was watching
Thrashin'
and heard it in the background and was like "What the hell is that?". It was released in 1986 and featured some great music as well as some of the world's best skateboarders,
Tony Hawk
,
Steve Caballero
and
Tony Alva
. Hmmm tangents.. where was I? Yes, Keith Levene. With a love for Hillel, I was stoked to not only pick up the 7" and the 12" but to get the 12" test pressing and for only a few dollars... awesome score!
---
Splits.
Daredevil Magazine - Burn The Streets Volume One.
Daredevil Records
- 1999. Ltd to 444.
Side One:
The Awesome Machine
- Ompa Bompa /
Mustasch
- Muddy Waters.
Side Two:
We
- Boom Boom Apes / Blacktop - High(Way).
Daredevil Magazine - Burn The Streets Volume II.
Daredevil Records
- 1999. Ltd to 444.
Side 1:
Rollerball
- Jonathan E /
Thumlock
- Starquake.
Side 2:
Cockburn - Il Classico Da Lavazza / Ridge - Firetruck.
What a wicked invention! Split releases! Was stoked when Daredevil released Volume 2 and it had Rollerball and Thumlock on there! Two Aussie bands to blow the internationals out of the water! You purchase a split for usually one band and get introduced to something new and usually just as great. You get to score some limited edition release and sometimes it's the only way to get that track. One new release quickly put out there for consumption. Daredevil went on to release 5 splits including booklets in the last few, including bands like
Sparzanza
,
Nebula
,
Hermano
, Sissies,
Alabama Thunderpussy
,
Mastodon
,
Solace
,
El Caco
and it continues. They turned more into compilations than splits due to the sheer size but what a beginning. I only have the first two pictured... anyone have Volume 3, 4 and 5 they would like to donate?
---
Frank Kozik
Art.


The Hellacopters
-
Doggone Your Bad-Luck Soul
.

10".
Mans Ruin
- 1999.
Frank Kozik is like no other. The man behind Mans Ruin, the label behind some of the greatest releases on vinyl. Releases on Mans Ruin have become some of a bands most collectable work. With a back catalogue that features
Kyuss
,
Gamma Ray
,
The Hellacopters
,
Cosmic Psychos
,
Magic Dirt
,
Fu Manchu
,
earthlings?
,
Sex Pistols
,
Turbonegro
,
Acid King
and the list goes on. He is also one of my favourite artists. Usually bright with graphics that punch right out and hit you in the face. His sleeves and posters are beautiful. The fact that coloured vinyl is involved makes it oh so much sweeter! I would love to have every Mans Ruin release... one day! Oh yeah, & the Hellacopters rock.
---
Why more than one?


Nirvana
-
Sliver
.

7".
Sub Pop
- 1990.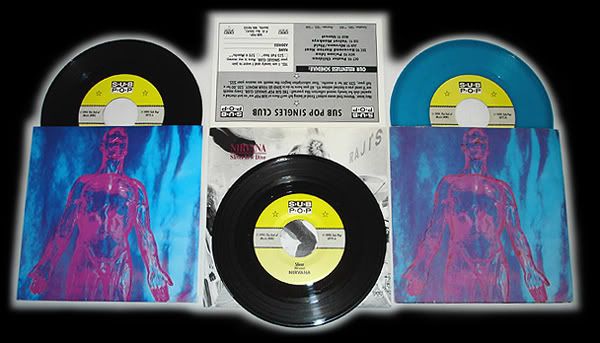 Well, why more than one? Because they're different! If it's original, reissued, limited runs of varying colours, different fonts are used, different images, barcodes in a different place, released in various countries, bootlegs, whatever the difference. I love it. I have a lot of different releases, CD & vinyl, in mulitple copies. Some, multiple multiple copies! I used Nirvana's Sliver as an example because as well as being one of my favourite bands and this track being pretty cool, the cover art looks amazing and especially as a 7". The colours and image look smooth as! Then when you slide out the clear blue vinyl, it looks even more electric! Everyone has a
Kurt
story. Although I don't know anyone that knew him. I am one of those people that says "I really connected with his lyrics, it was like they were written for me". Go on, say what you will, but I did connect with his songs like millions of other fans. The guy was simply a freak. Song writing and guitar playing genius. Even though technically he grew better with each release. Usually the case I guess the more someone plays, for me I still usually go for a bands rawer albums.
Bleach
kills it every time. I was lucky enough to catch Nirvana play at the first
Big Day Out
in 1992, insane! "So where were you when you found out Kurt was dead". I don't always remember those situations, but I do clearly with Kurt as I do with
Stevie Ray Vaughan
. I was sitting on a stool next to the counter in my parents surf / skate store, when my Dad walked in and told me "that the guy I like, that sings in that band, just died". It took a short while but we figured it out. I was numb. Imagine how awesome Kurt's songs would be as an eccentric old dude releasing solo material. If you're wondering, I was sitting on the floor listening to the radio at my sister's flat in Sydney when I heard about Stevie Ray.
---
Hang it on your wall.
Hoodoo Gurus - Singles Six Pack.

7". Big Time - 1985.
Leilani
- 1982.
Like Wow Wipeout
- 1985.
Tojo
- 1983.
Bittersweet
- 1985.
My Girl
- 1983.
I Want You Back
- 1984.
Back in 1989, what was left of my family living at home moved from Wagga to Port Macquarie. Time for a change. My parents knowing nothing about it decided to buy a surf and skate store and throw us all in the deep end. I'd been skating for about 6 months and they only really knew what they did from taking the kids into stores growing up. A lack of knowledge, a strength of passion. They were amazing times. Family moving, leaving friends and arriving at new ones. A massive shift in where music was heading and greater was the change in skating. Ramp was on its way out and the new street breed had moved in for the thrill. Double kicks, a lack of ratnuts and plastics, graphics getting cartoon crazy and living on the edge. While working in the store we used to play a lot of music but there was always the regular bands. Especially in those early years there was the
Red Hot Chili Peppers
,
Stevie Ray Vaughan
,
Devo
,
Robert Cray
,
Faith No More
and there was a lot of Hoodoo Gurus. Mainly it was
Mars Need Guitars
. A perfect blend of guitars (of course with a title like that!), story telling and perfectly written tracks from beginning to end. If I wasn't motivated I'd put it on to get psyched. If I was having a good day I would put it on to go nuts! That's what really kick started the Gurus collection. Albeit Mars was on cassette, no turntables in the store! I already had quite a few 7"s before I picked up this second hand, but I'd never seen a handful of singles all together in one hang-it-on-your-door style of sleeve. I actually have never hung it and keep it rolled up as one in the collection, but it's still cool to have it as something a bit random. Like a one stop instant Gurus catalogue. A lot of the time at work I usually don't play my favourite music and let others play what they want. I don't want to think of work when I'm listening to it at home. After listening to Mars so much during those early days of the family business, it's nice to listen to them, doesn't really actually matter what track and be reminded of that cool time in my life. The family, the friends and the skating.
Actually stoked, score of the day I'm writing this is The Robert Cray Band's
Don't be Afraid Of The Dark
on LP. Still have the cassette from the old days but never sought it out on vinyl. $2, light sleeve wear and some very minor surface scratches, no issues though and cheaper than a bottle of coke. Stoked!
---
Box sets.


Jane's Addiction
-
Been Caught Stealing
.

12" Box Set.
Warner Bros
- 1991.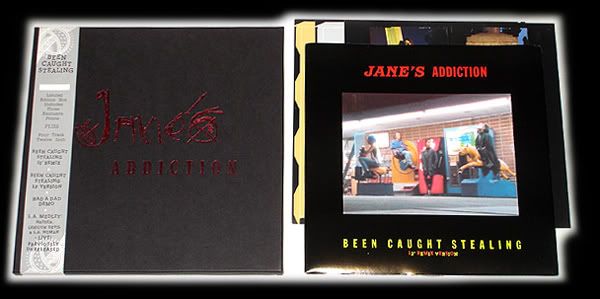 Led Zeppelin
-
Boxed Set
.

6 LP Set.
Atlantic Records
- 1990.
If I could listen to any song over and forever it would definately be
Three Days
live. It takes you to another place. It opens your eyes and expands your mind to a world like no other. Jane's Addiction have done beautiful things musically, visually and transcendentally! The music, the art, the dreads, the hyperactivity. I missed seeing their first tour of Australia back in the 90's and it was my biggest musical regret. I have seen both their tours since. They play on another plain, an entirely new level and take you away. I don't know whether it was the beautiful scantily clad women on stage, the energy of the music or my wife constantly talking about
Navarro's
abs, but the sexual electricity in
The Palace
that night was monumental! The Been Caught Stealing box set is one of my favourites. It includes the 12" and 3 printed photo's on card, but it's the box itself. Matte black with red gloss embossed text. Just like Jane's Addiction, it's dark but slick and very smooth.
I had heard Led Zeppelin a fair bit and dug some of their songs for years but it wasn't really until I started hanging out with some hippies in high school that I got really hooked. When I say hippies, yes they did have long hair, but they were the complete
Carlos Castaneda
reading and living amongst us in another consciousness kind. Of course there was also a Neil from the Young Ones amongst them! I loved hanging out with this group of people. They opened my eyes to many things. I only really talk to one of them after all these years but their friendships will always be close. See what happens, thinking about it has turned me all peace, love and mung beans. So with all that said, when this definitive box set of Led Zeppelin mastery was released I had to grab one. 6 LP's including previously unreleased tracks, a 30 page booklet and of course the gloss cover of the airships shadow over the crop circles. There was also the one month later scaled down release, Remasters which is a 3LP set.
---
Hand drawn artwork.


The Meanies
- Scum.

7" white vinyl.
Sympathy For The Record Industry
- 1991.
Tumbleweed
- Weedseed.

7" double clear orange vinyl.
Waterfront
- 1992.
Hard-Ons
- Just Being With You.

7".
Waterfront
- 1988.
Massappeal
- The Bar Of Life.

7".
Waterfront
- 1987.
What a time in Australian musical history. The 80's and 90's. Some amazing bands and scenes exploded. Labels were born and releasing local talent over international acts. Venues were bursting at the seams with punter's going nuts for some rawk'n'roll! It was an exciting time. What also came out of it were amazing artists that seemed to generally start off just because of the need to get gig posters done and some artwork on their own releases. It was the hand drawn art of those years that really stood out and stands the test of time. Not only were bands followed but releases collected for the artists work as well. Some of the best are as above, Link (Meanies), Lenny Curley (Tumbleweed), Ray Ahn (Hard-Ons) and
Ben Brown
(Massappeal pictured as well as doing Hellmenn). I remember going through a sale bin at a second hand store and this CD cover with bright pink leapt out at me. Unmistakably it was Ben Brown's work so I pulled it out. It was
The Porkers
Perfect Teeth. Check out the artwork on their site, it's sweet. I don't buy their music usually but I certainly snapped that up to have some more of Ben's amazing work in the collection!
---
The ol' faithfuls.


Sex Pistols
12"s.
(back row l-r, front row l-r)
Sid & Nancy
Soundtrack.
MCA
- 1986.
Flogging A Dead Horse
.
Virgin
- 1979.
We've Cum For Your Children (Wanted: The Goodman Tapes).
Skyclad - 1988.
Some Product: Carri On Sex Pistols
.
Virgin
- 1979.
Where Were You In '77
.
1985.
The Collection.
Telmak
-
1988.
Never Mind The Bollocks, Here's the Sex Pistols
.
Warner Bros
- 1977. (US Sleeve release & colour)
Sid Sings
.
Virgin
- 1979.
I first got into the Sex pistols from hearing my older brother play
The Great Rock'n'Roll Swindle
. What a freakish eye opener for a kid to see that movie! I was young and didn't honestly know what punk music was all about and what they were really getting up to but I thought
Sid Vicious
was cool as hell. I dug the rough as guts music played by the Pistols. I didn't really understand why Mum wouldn't let me where a t-shirt with needles sticking out of Sid's arms or what was wrong with the
God Save The Queen
cover. Some of these records have been played over and over and I'm surpried they're not worn through. I don't listen to the Pistols much these days, but as soon I hear it... I wanna head butt someone!
---
Series.

The Desert Sessions 10".
(front row l-r, back row l-r)
Volume 1: Instrumental Driving Music For Felons
.

Man's Ruin
- 1997.

Volume 2: Status: Ships Commander Butchered.
Man's Ruin
- 1997.
Volume 3: Set Coordinates For The White Dwarf!!!
Man's Ruin
- 1998.

Volume 4: Hard Walls and Little Trips.
Man's Ruin
- 1998.

Volume 5: Poetry for the Masses (SeaShedShitheadByTheSheSore).
Man's Ruin
- 1999.

Volume 6: Black Anvil Ego.
Man's Ruin
- 1999.

Volume 7: Gypsy Marches / Volume 8: Can You See Under My Thumb? There You Are.
Southern Lord
/
Rekords Rekords
- 2001.

Volume 9: I See You Hearin' / Volume 10: I Heart Disco.
Ipecac Recordings
/
Rekords Rekords
- 2003.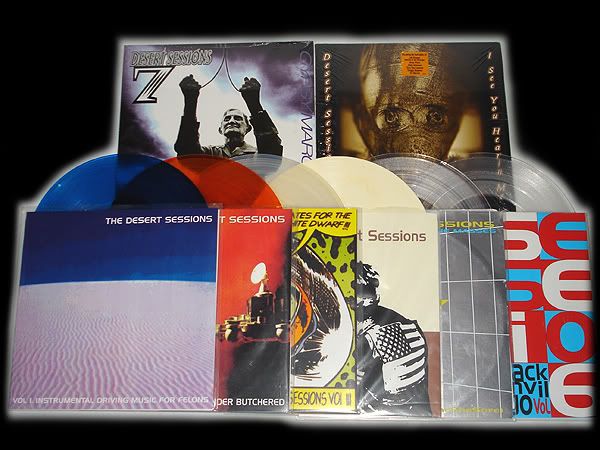 After the break up of the legendary
Kyuss
in 1995,
Josh Homme
went on to tour with
Screaming Trees
and then formed Gamma Ray. Later to change their name to
Queens of The Stone Age
due to a lawsuit from the
German band
of the same name. In 1997 he started what was to become one of the greatest series of collaborations ever, the mighty Desert Sessions. Featuring a revolving group of musicians including the likes of fellow band members
Brant Bjork
,
Alfredo Hernández
and
Nick Oliveri
as well as
Chris Goss
,
Twiggy Ramirez
,
PJ Harvey
,
Pete Stahl
,
Blag Dahlia
,
Mario Lalli
,
Larry Lalli
,
Gene Trautmann
,
Jesse Hughes
,
Alain Johannes
,
Natasha Shneider
,
Mark Lanegan
and the list just continues! Originally each installment was released on a separate 10" vinyl up to Volume 6. 7 and 8 as well as 9 and 10 were released as a double 10".
When
Instrumental Driving Music For Felons
was released, my future bride and I were living in Port Macquarie. She was off to Sydney to visit her family and I wrote out a list of CD's and vinyl I was after. I knew there would be a city visit during her trip somewhere! Old school
Waterfront
really was like no other. A few stores had muso's working in them, they had Alison from
Smudge
. They also took the time to write in coloured texta on big white labels to stick onto the clear sleeves of who might be in the band, someone that had produced the release, how it might be connected to others or even simply just the artist and title so it stood out. A great way to be introduced to other bands through one's you already loved. Genius. I still have that label somewhere but it's no longer on the sleeve. I can't honestly remember if she purchased anything off that list but while in Watefront and flipping through vinyl she did find a gem.
Josh's
name stood out and Holly made one of the smartest decisions in her life (over exageration?), she bought that first Desert Sessions 10". The first few were only between AU$18 to AU$25 depending where you bought them!
---
Collections.


Meanies
:
(back row l-r)
Boogie Wonderland.
Compilation LP.
AuGoGo
- 1990.
Come 'n' See.
LP.
AuGoGo
- 1992.

Teeth.
10" Compilation. 1991.

Gangrenous.
Clear red vinyl 10".
AuGoGo
- 1991.
Gangrenous.
Clear green vinyl 10".
AuGoGo
- 1991.
Gangrenous.
Clear plum vinyl 10".
AuGoGo
- 1991.
(7"s - front row l-r)
Stay Keen.
Infidelity
.
Rhyming Logic.
Merge
- 1993.

Probe T.V.
AuGoGo
- 1991.
Ten Percent Weird.
Pink vinyl. Subway Records - 1994.
The Reason Why.
AuGoGo
- 1990.
Lyin.
AuGoGo
- 1991.
Paranoid.
1 off negative colour way. Printed by mistake.
AuGoGo
- 1991.
Paranoid.
AuGoGo
- 1991.

Them.
Jukkim Records - 1993.

Lyin. Test Pressing.
AuGoGo
- 28-11-90.
Destroy - Ox Compilation #16.
Gangrenous. 1994.
One Right To Grieve.
Munster Records - 1993.
Scum. Clear red vinyl.
Sympathy For The Record Industry
- 1991.
Scum. White vinyl.
Sympathy For The Record Industry
- 1991.
Just What You Need.
Clear blue vinyl.
Get Hip Recordings
- 1993.
Inside.
Clear yellow vinyl.
Lance Rock Records
- 1992.
Inside.
Lance Rock Records
- 1992.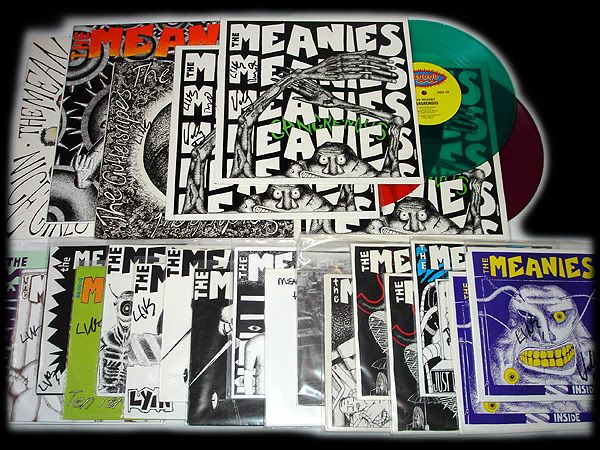 The Meanies are the epitome of what live music is all about. Killer songs played with an energy and passion like no other. Link, still to this day, throws himself about the stage like a rag doll and must pay dearly for his injuries. One of the recent gigs I caught Link hurt his shoulder what seemed to be pretty badly yet he continued on with the set! As you would expect from a Meanie! Everything from the perfectly constructed songs to Link's hand drawn art work is what music is all about - attitude and the do it yourself ethos that fan's love. Some of the greatest set's I've ever seen have been by this band including one of my all time favourite gigs at one of the greatest venues in the country,
The Annandale Hotel
in Sydney. It was a sauna as punter's pushed and shoved. It was like a sardine tin. You had to grab Link to pull yourself up onto what there was of the stage just to stage dive. As you leapt the heat rushed at you like an atomic explosion and just for a split second you passed out from its magnitude. Coming to just as you landed on a shelf of hands and got thrown back. You did it all over again. The guys nailed it and beers were thrown all over the place in recognition of sharing something special. It was beautiful.


Magic Dirt:
(back row l-r)
Snow White.
LP.
Warner
- 2005.

Friends In Danger.
LP.
AuGoGo
- 1996.
What Are Rock Stars Doing Today.
LP.
Warner
- 2000.
I Was Cruel. 10".
Clear orange vinyl.
Man's Ruin
- 1995.
I Was Cruel. 10".
Including poster.
Au-Go-Go
- 1995.
(7"s - front row l-r)
The Next Big Thing Magazine #27.
Includes bonus Kick Out The Jams on double 7". 1997.
Kick Out The Jams.
Promo. 1997.
Supertear 98.
Give away only. 1998.
Goofy Dumb.
Split with The Heads. Butcher's Hook - 1996.

Supertear.
Clear purple. Fellaheen - 1993.
Supertear.
Fellaheen - 1993.

Redhead.
Dirt Records - 1995.
Sparrow.
Double 7".
AuGoGo
- 1997.
Signs Of Satanic Youth.
Double 7".
AuGoGo
- 1993.
Magazine / I Want A Dog.
Fan Club 7". 2001.
Feedback soothes the soul. Magic Dirt blew my mind the first time I saw them. Especially in those early days they got compared alot to
Sonic Youth
. Whether it was the feedback or the fact there was one female in the group, probably that and more. Even though I dig Sonic Youth and Lee and Thurston are two of my favourite songwriters, I have always felt that would've pissed Magic Dirt off as they had so much more. They were grittier, rocked out more and of course, they were Australian! Redhead is the pinnacle for me, Touch That Space, that era. Some of the greatest gigs I have ever seen have been from the Dirt. I have met them all and had the pleasure of interviewing
Adalita
but don't actually know them all personally. It always hits harder with family and friends but we all certainly miss
Dean
. Rockin out on another stage.
---
There are so many other releases and different vinyl formats and oddities I could have included but I had to stop somewhere. I didn't intend to make this as big as it is but sometimes when music is involved, it's hard to stop. For me - the music never does! Even if I'm not listening to anything, it's still there in my head.
There is sooo much out there I still
need
to have in my collection. There is one however that I have searched for years to track down and is the most illusive yet....
Spiderbait's
ShaShaVaGlava
. (Using Jedi mind trick) If you own it, you will give it to me.
---
There are some amazing stores I have been into, bought from mail order or online and scored some great music and memorablia over the years. Below are just a few...
Skinny's Music - Brisbane.

Simon and Justin rocked! We lived in Port Macquarie, Mid North Coast of NSW and it was hard to get music. I went into the store for the first and only time while staying at a mate's place while up there to see
Monster Magnet
. The store was awesome and the guys knew their shit. They would put music away and I would just send them money when I could. When it covered cost they would send it. To start with I would ask for particular releases, in the end they just added whatever. They understood my taste perfectly. They introduced me to some kick arse tunes and I have scored some amazing releases off them. They also threw in some great freebies,
Rollerball
memorablia including a promo video, setlists, frisbee and posters (they knew the guys, I loved the band), as well as some awesome
Man's Ruin
promo CD's including
Desert Sessions
5
&
6
,
earthlings?
and
Dozer
! Still stoked on those to this day! It didn't last for long as we moved and I lost contact with them but these guys are two of the most amazing dudes I have ever had the pleasure of dealing with.
lml

Dixon's - Melbourne.

There are a few but Fitzroy is my favourite. Although Camberwell has their own store cat that loves to come and say meow. Fitzroy's has loads of discount CD's on the floor you can spend hours and always find something. Like $2 for a promo version of
Orange Goblin's
The Big Black
. Scorpionica is one of the greatest kick-arse tracks of all time! Why don't I have that on vinyl? Dig through their vinyl and you'll be sure to fill a gap in your
Meanies
collection or find some avant garde release from that German industrial band you used to listen to whilst downing shrooms back in the day... so I've heard.
Greville Records - Melbourne.

Great vinyl, books, reissues, box sets and always good to just hang around the counter and listen to the conversations! You always pick up some interesting fact about a musician just being in there. Nothing comes to mind but it seems to be the place to hang if you are a collector who thinks they know more than the staff!
Missing Link / Record Collectors Corner - Melbourne.

Don't go into Missing Link much. Always feels uncomfortable. The vibe seems to be a bit too hardcore for me. Younger kids seem to have taken over everytime I have been in over the last few years that think they know their shit. I'm sure some of them know a hell of a lot more than me but I like to spend hours grazing when I'm in a record store not feel like I'm in someone's way. Still, have picked up some great scores over the years and the staff are helpful. They seem to support local bands more than other stores too, so I dig that. You can also pick up
Craig Westwood's
solo work from there, enough said.
Record Collectors Corner. If you've been in there you know you'll score every time. Now that they've merged with Missing link I'm not sure if it will take them a little while to find their feet together but two stores with different strengths that know there shit will surely do well. When I first heard that Collector's Corner was closing down, I actually felt a bit shit. Whenever a cool record store closes their doors I think most collector's feel they should be out supporting the little guys more. Hopefully now they're both together it'll be a successful venture for all involved.

Sister Ray - Melbourne.

When my wife started working in Fitzroy and we started hanging out there alot more I used to go into Sister Ray a lot. Especally while waiting for her to finish work. How annoying was it though that upstairs was alway shut. I only got to go up there to dig through their massive amounts aof random memorabilia a few times but found some pretty cool promo shots including a great one of
Melissa Auf Der Maur
. Another cool store bites the dust.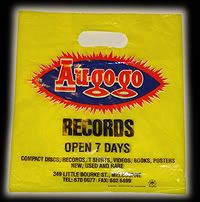 AuGoGo - Melbourne.

All I need to say is home of
Magic Dirt
. Then... yet another cool store bites the dust. Moving to Melbourne in 2000, I only got the tail end of the store years but they released some amazing music and every release on their label was worth buying. The beauty of the internet, unless you are a conspiracy theorist, is that everything is stored out in the land of the great superhighway never to disppear. Only a few days ago whilst searching and going on tangents I found a page that had some now pretty rare Aussie releases listed for sale dirt cheap. Then I realised it was AuGoGo's page to clear everything out. So be warned, those naked photo's you send to
Milla
in hope that she'll one day return you're calls and lift the restraining order may end up in your bosses search engine and printed for the staff room wall.
Gaslight - Melbourne.

I didn't go into Gaslight much. Before we moved to Melbourne I heard it was an amazing store. When we went there they had way too many of the same CD and just a corner stand of vinyl. Move with the times I guess. I feel it deserves a mention because even though I didn't witness it personally I have heard loads of good stories about it. I did go to a few instores there which was cool. Probably the strangest was
Placebo
in I think 2000. They were promoting
Black Market Music
which I bought a limited release of on CD to get signed. My wife and I were clearly the two oldest (and tallest) people there. Surrounded by an ocean of black. Only just teens wearing too much nail polish and eye liner for even
Robert Smith
. Still, we waited it out and stuck out like an AC/DC fan at an emo gig. Placebo were cool guys but that soon wore off quickly.
Red Eye Records - Sydney.

Red Eye records during the 90's when I either lived in Sydney or used to frequent there for gigs was the epitome of heaven. Athough I was always broke, especially after leaving there! Being down stairs in an arcade hidden from the public's view almost made it seem like a regular's little secret. They had two stores across from one another. One that was stocked with new releases and one second hand. Filled with regular releases right up to some pretty random and rare collectables tucked away in their counter. Scored a lot of my
Mother's Milk
and
Blood Sugar Sex Magik
hard to gets from here. Some now more easily accessable with eBay, then it was pretty hard to track this stuff down. Between Red Eye and Waterfront, they pretty much had it covered.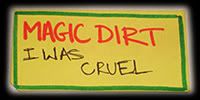 Waterfront - Sydney.

The smaller store near central is where I met
Babes In Toyland
back in '92 or '93. It was a shoebox, but filled with high class stilletto's, none of those dodgy Balinese knock-offs. Scored some great music and memorabilia there in those days. That Babes gig at the
Phoenician Club
that year... holy shit! I froze when we were watching the supports, I think it was Zambian Goat Herders at the time and
Lori Barbero
, the Babes drummer, was standing there next to me watching the band as well. I have no idea why I didn't start talking to her other than I was in awe of her presence. Babes In Toyland were a mean machine.
Dust Cake Boy
, holy crap! Then when Waterfront moved further in to the city in York Street, they stepped their shit up a notch. More choice. Better labeled. Bigger deal. Their label and their store, they rocked it bigtime.
Silverrocket - Sydney.

What street was that on? Castlereagh? From memory it was near that massive second hand store that had books, cassettes and vinyl. That whole area of the city eludes me. This store was even tinier than the original Waterfront but you could easily walk in and just buy everything under 'A' to start with and know it was all killer.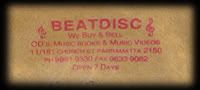 Beatdisc
- Parramatta.

I only went in here a couple of times. They always had the best live band shots up on their wall that you could buy way before any other stores had them. Of course back in the early 90's there was no eBay on the interweb too! No digicam's. I scored some great photo's, early
Magic Dirt
,
RHCP
and
Beck
amongst others.
Second hand dealer - Chatswood.

I can't remember the store name or exactly where it was. So why mention it? I used to go to this store years ago whenever I stayed with my sister in Lindfield & Roseville. They only sold second hand music but had a massive amount of vinyl and cheap as hell. Scored some great LP's including
Zep
,
Doors
, an old school sealed
Hendrix
,
Stevie Ray
and
Motley Crue
.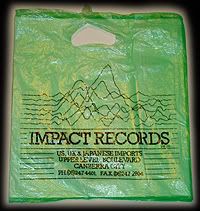 Impact - Canberra.

A mate took me into this store when I was visting Canberra. They were fully stocked and the sheer floor space was massive compared to most little Sydney stores I was used to. Was blown away by the amount of random and hard to get t-shirts they had. Scored my
Helmet
-
Meantime
US tour shirt from there. Still one of my all time favourites, although now seeing out its days worn to death in a box. I had a search around on the net and found out that Impact was sold in 2004 to JB Hi-Fi. Another one bites the dust. The forum I read this on had some pretty upset regulars and they were shattered that their local was losing its soul and most of what made it the killer store it was, it's stock and its charm. Thanx Nik for the introduction to the once almighty Impact.
Swap Shop - Wagga Wagga.

When I was a young kid my Mum took me in there for the first time. You could take old books, tapes and records in there and swap them for others or just buy what they had. I scored some great records from there that I still have today. They helped build up my
KISS
collection!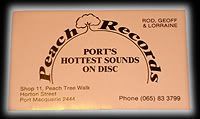 Peachtree Records - Port Macquarie.

There weren't many music stores up in Port and Chandler's mentioned next was the main one but now and again we'd go to Peachtree and Music Trendz (scored a great
Cramps
picture disc from Rod!). Peachtree used to look after me and always did what they could to track something down. When they closed down they discounted loads of things and even gave me some great freebies. Scored some
Babes In Toyland
,
STP
, and
Nirvana
discounted. Freebie
Zappa
promo and other stickers and posters. They had to pull down their listening booths and I bought both sets of headphones which I used for four years as an on-air presenter at
2-Way FM
and still have them to this day!
Chandlers - Port Macquarie.

I have left possibly the dearest to my heart until last. It was hard living in Port Macquarie to buy much music at all. To start with I didn't get a chance to escape to Sydney much and I hadn't yet met the Skinny's guys, that was years later. The local Chandlers had a music section run by the most legendary salesperson to boot. We always thought she was hot! We got to know her after dropping in every time we went for a skate. Loads of stores would give us a hard time as everyone thought skater's were thieves and young hoodlums. Not there. We scored some great posters over the years but the effort that was gone into to get us music was second to never. I would sometimes take a page full of bands and releases I was after and the mission began. Importing then isn't anything like now. It was pretty near impossible to get loads of those albums and sometimes only 1 or 2 from a page would arrive but if there was an imported
longbox
or limited edition number available, it would arrive! Appreciation is an an understatement. Jo, you rocked our world!
---
This is pretty wack, a German guy that makes records out of chocolate. Awesome.
Check it out!
---
Holy crap... did you write enough? May-be... may-be not. I could've kept going. For those of you that are reading this it means that you stuck with it. Thankyou. Leave a comment, I'm interested to know your thoughts on any of these releases I mentioned, your own favourites and of course, your passion for vinyl!