Budd
The Old Bar
,
Fitzroy – Melbourne.
Saturday 2nd October, 2010.
It was an amazing day. BBQ at home with family and friends, having a few drinks and proudly yelling at the TV as
Collingwood
tore the
Grand Final
replay right out of St Kilda's hands! It's a beautiful thing! What better way to celebrate than to head into Fitzroy to check out the legendary
Budd
. Home grown and heavy, the weight of
Budd's
stone is not to be underestimated. Back in the day we used to listen to Yakfat in a purple haze. The sheer volume of sound is exhilarating and especially live nothing quite tears your face right from your skull like Budd.
The excitement was growing and punters moved forward in anticipation. Unfortunately there was no
Southern
behind the bar but even drinking
Jameson's
couldn't bring me down tonight. As guitarist Jeremy Finlayson,
Budd's
founder and only original member, set up what can only be described as the most awe-inspiring and fuckin confusing board of guitar pedals you have ever seen, there were gasps. We know what the electric wizard can pull out of them! First time I saw
Budd
was back in the 90's and after Jeremy relocated to Melbourne around 5 years ago, the sporadic shows bring the old school fans out of the shadows. Along with fellow band members, bassist Craig Westwood (
Christbait
,
Dern Rutlidge
) and drummer Tom Jackman (
Ricaine
),
Budd
draw you in with their hypnotic wanderings and then throw you in the deep end with some of the chunkiest riffs this side of
Kyuss'
Wretch
. The sound is so bass-driven that the whole venue is slowly shifting down the street. As my mate Hutchy next to me shouted "I feel like I am sitting in a massage chair!". After the opening haunting echoes of Bocci from 1999's Prana, we were already mesmerised. Then the foot kicks the pedals and all ribs were dislocated and glasses raised as the sweeping heavy grooves kicked us off our feet into the back wall. The belting chill's out and just as you try and stand round 2 punches you hard and fast.
Budd's
sound is like no other. It can take you on a relaxing sway into the realms of light fuzz and space and crank the weight so hard that your smile looks like you're skydiving from the sheer tornado of sound. Jeremy has a talent for creating layers like never before, his ability and technique is mind blowing. Distortion and phasing soundscapes along with Craig's sweltering bass and Tom belting the hell out of his skins is a pleasure to fall into.
One of the highlights was Shell, mountainous and thundering steady grooves that keep you swaying and banging your head just enough to not spill your drink as you take another swill.
Chatting with Jeremy after, he seemed surprised that
Budd's
old school hard work had left it's legacy with a bunch of 30 somethings that turn up to todays gigs stoked on seeing the legendary
Budd
once more. For us it's no surprise. After all what was the 90's without too many blown out days of escaping into the weight of
Budd's
Yakfat,
Kyuss'
Wretch
, the craze of
Jane's Addiction's
Ritual
and the funk lunacy of
RHCP's
Blood Sugar
. Seeing
Budd
again the last few years just reassures you that it wasn't a lucky phase that they were going through, it was back then and continues to be today a ground breaking sound like no other played by guys that not only have a natural talent for but also a passion for shit-hot kick-arse music. It was an absolute fuckin pleasure!
Before they even started their set I couldn't help myself and yelled out "Chopsumfuckinwood", my favourite track from 1993's Yakfat, Jeremy replied, I learnt it but the other guys haven't. They played a mix from Prana and their new release out now, Jawa, including the title track. As Craig intro'd it, drunk heckler #1 asked if it was heavy, Jeremy replied that it was "inspired by speedway bikes". Perhaps Craig's response sums up the Budd sound through the band's entirety perfectly "It's heavy in metric and imperial".
Budd
slaughtered The Old Bar. Stay tuned for more upcoming gigs prior to Christmas and check out
Craigwestwood.com
to buy Jawa as well as
Craig's
latest solo, the dark and beautiful, Seven Songs. Also available from
Bandcamp
and
Missing Link
.
Setlist.
Bocci (Prana)
Msceeta (Prana)
351 (Jawa)
Shell (Jawa)
Venturi (Prana)
Pivot (Prana)
Pull Me Down (Jawa)
Jawa (Jawa)
2DayKills2Morrow (Jawa)
Ykaen (Prana)
Methanol (Jawa)
Also do yourself a favour and check out the legendary
Long Gone Loser
site for their
Budd
review and loads more.
Check out my
Facebook album
for more
Budd
photo's.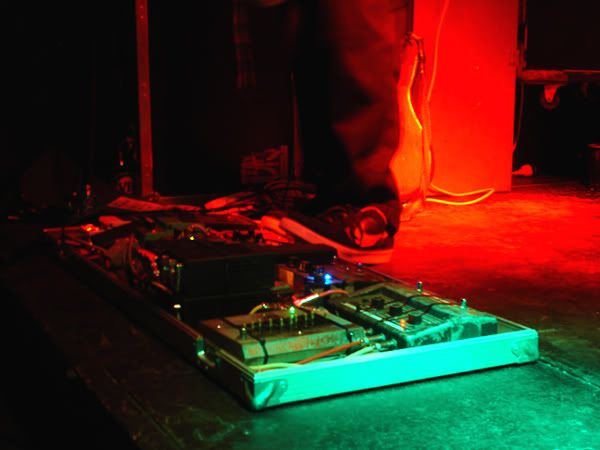 Also check out
Word On The Street
for this review and others...