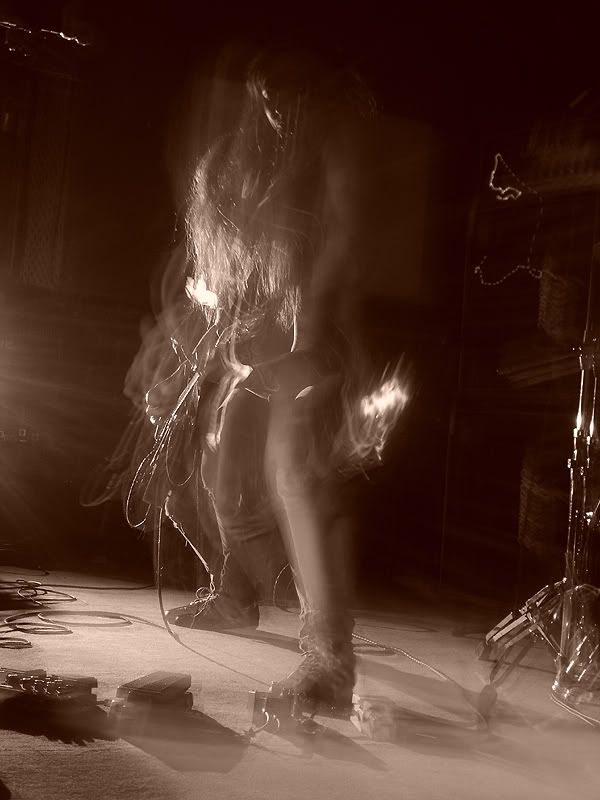 10-10-10
The Tote, Collingwood.
It's official. After 16 years Ministry have finally been knocked off their perch as the loudest gig my ears have had the pleasure of dealing with. I wasn't sure, but after getting home to silence and hearing the death of 10,000 screeching locusts being violated through a DC10 engine at full blast, Acid King now holds the trophy.
A mate asked me if I was going to go on Facebook. I was half way through typing I couldn't really be bothered when I went and listened to some of their music on Myspace. I have heard a few of their songs before but didn't really know the band that well. I knew if I didn't go I would be missing out on something awesome. Myspace changed my mind. After backspacing, I was in.
We headed into Collingwood by way of chauffer driven said friend. It's a weird feeling going back to the Tote. It's like when I bought a pair of reissued Vision DV8 skate shoes years ago. They look pretty much exactly the same as the pair's I had in the late 80's, they're made out of pretty much the same stuff, but some of the soul was gone. Pun intended. Still, some great gigs had in the past and there will definitely be some in the future but we all knew it would kick arse tonight.
On the way in to the gig room, we walked up to the merch table and I think I must have let out a massive GASP! I have never seen so much merchandise at a gig before. Well proper merch, not festival bullshit. I mean vinyl, picture disc's, CD's. Proper merch and even a box full of excess vinyl to sift through. Shit, even the merch table is kick arse!
From the onset it was extreme. Steady and wielding brutality, Acid King are loud. When I say loud, I don't mean the kind where you have to yell into your friend's ear and they just nod because they've only heard every few words. I mean the kind that destroys your brain cells from the vibration alone. The volume tore the ears off my head! It was fucking insane! Violation through hellish amplification. Acid King are a three piece as well, with a sound so massive even Superman couldn't leap over them in a single bound.
Acid King's brand of rawk is a sludge fest. Low end & heavy. Lori's guitar kick's arse. They been labeled as stoner but any stoner listening to them would fuckin melt from the freak. They've got the cruise but there is such a pounding from Joey's skins and Mark's bass that follows through like a bullet train.
Towards the end a guy standing next to me at the front handed Mark a beer with a "you are the fuckin shit!" look on his face. Mark happily took the beer mid song and put it down next to his amp. They said this was their last and got into it. Lori put down her guitar and watched on side stage as Joey and Mark jammed it out. She let us know that they'd play one more song for the encore… one more that's three songs long! During the first song in the bass amp blew and Mark couldn't get it going again. Still as a two-piece it was a wall of power! As Mark was checking out the back of the amp the guy standing next to me crept up on stage and grabbed his beer back, snuck back off and continued to drink it! Too funny! "You rock, but since your amps blown I'll have my beer back thanx…"!
Mark sat side of stage and watched on, pretty calmly considering I guess. Speaking to him after he said well, atleast it was at the end of the tour!
Afterwards we chatted with the band and got some things signed. Cool folk and very easy to talk to. Me doing what I do best, getting momento's from a gig, asked Mark for his setlist and got Acid King to sign that too. Said friend asked to get a photo of it for his blog. It was strange standing out the back of the Tote in the beer garden next to Mark while the photo was being taken. It was a oh oh look what I scored woo hoo moment but how embarrassment as one of the band is watching all this take place!
As the photo was taking place a couple tried to walk between us, noticed and stopped. It was a this guy is taking a photo of that guy moment. He replied "Well it could be worse! You could be the girl in the front bar that just shit herself!" I wondered what that smell was when I just went in there before to buy a drink…
We hung out for a while in the beer garden's fresh air before had to deal with walking out through the front bar to leave.
I'm now about to go to bed. I can no longer hear Acid King, but I can hear the hum of 1000 Marshall stacks still on buzzing in each ear.
It was fuckin awesome.
Acid King
Long Gone Loser
kick arse review.
More Acid King gig photo's on my
Facebook
.