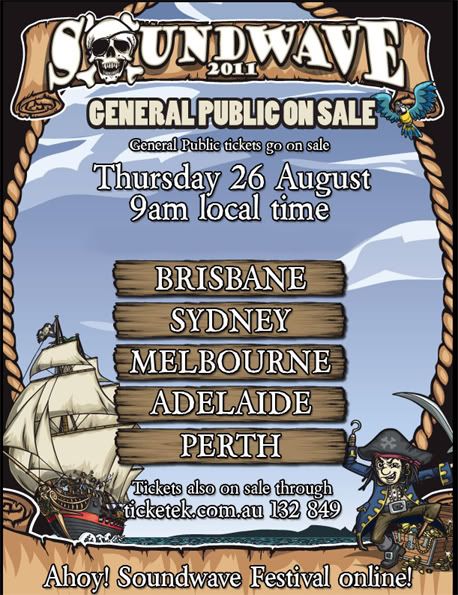 With all the talk on Facebook of punters taking advantage of the Soundwave 2011 presale last week, as well as the incredible lineup, if you don't have a ticket I'd be getting one when the General Public tickets go on sale 9am Thursday 26th August. Ummm that's tomorrow!!!
Line-up:
Iron Maiden, Queens Of The Stone Age, Slayer, Primus, Slash, High On Fire, Rob Zombie, Melvins, The Bronx, Monster Magnet, 30 Seconds To Mars, Stone Sour, Avenged Sevenfold, Social Distortion, Gang Of Four, New Found Glory, Pennywise, Sum 41, Anberlin, The Gaslight Anthem, Third Eye Blind, Devildriver, Sevendust, Less Than Jake, Terror, Mxpx, Protest The Hero, 36 Crazyfists, Ill Nino, The Ataris, The Starting Line, Bayside, Mad Caddies, The Maine, Trash Talk, Mayday Parade, Foxy Shazam, Never Shout Never, The Blackout, Alesana, Asking Alexandria, All That Remains, Dommin, The Sword, Kylesa, A Skylit Drive, There For Tomorrow, Breathe Carolina, Taking Dawn, I See Stars, Rise To Remain, Nonpoint, Veara, Every Avenue.
(Normally I would add a link to each band but that is just crazy talk!)
Check out the
Soundwave 2011
site for more details...