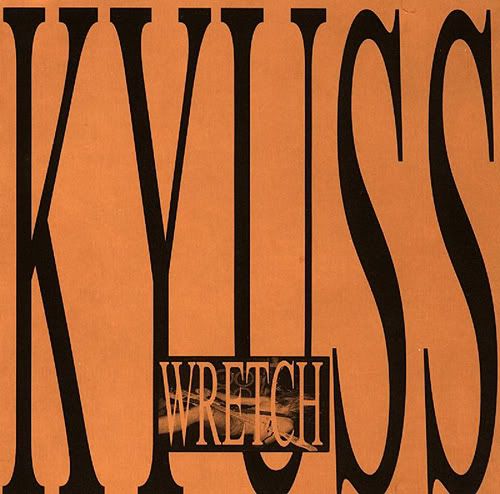 ==============================================================================
Taken from my Desert Highways column on Roadrunner Records Metalshop.com site.
October 2002.(RIP long ago...).
==============================================================================
CLASSIC RAWK 'N' ROLL!!!
Kyuss – Wretch (Dali Records – Sep 23, 1991)
A journey of truly infinite proportions! Bad bitches and desert highways, black widows and deadly kisses, 'Wretch' is the beginning of what's about to happen. The first full-length release under the moniker Kyuss (originally 'Sons Of Kyuss' – named after a Dungeons & Dragons character), this album is the definitive turn in the stoner movement. Some say Black Sabbath, Hawkwind etc and even that Jimi Hendrix's experimentation was the first manifestation of 'stoner'. But really it all just comes down to opinion, and after all, this is mine.
The so-called and rather expansive movement know as 'stoner' definitely has influences from many years ago, but Kyuss, lead by guitarist Josh Homme (Queens Of The Stone Age, Desert Sessions), set a new direction in low-end bass-driven heavy-groove. There are not many albums that are truly a journey from beginning to end but this album is as prophetic to me as the bible, actually more so.
Originally released in 1991 when most were into something completely different, this album was decades (may-be just years…) before its time. Throwing peoples musical tastes and attitudes into the fire. Admittedly, with each album, and line-up change, the band grew but which in turn changed their sound. They always encapsulated that desert groove but lost that raw appeal this album reeks of.
I read somewhere once online describing the Kyuss sound as 'Riffs as thick as wet cement'! Gotta love that! Josh was still in his teens when they recorded this album. That still blows me away. His style of fat low-end grooves created a new genre to itself.
The surging tide of 'The Law' sweeps you up in its swell. The intro throwing you about in its wild current… then it pulls you under and all is calm. This album is all about the journey. And Josh can tell a thousand stories with each strum. It could be the cruising potency that is 'Black Widow', that roar into 'Isolation' that hits you like a tornado, or may-be you wanna burn it down the strip to 'Big Bikes', this album rocks!
Vocalist John Garcia knows how to treat his words. His voice is another instrument in the already perfect line-up and he knows exactly when to use it. Whether during the highway driven first track 'Hwy 74', the rolling thunder that is 'Katzenjammer' or the even just the "yeah's" he throws in. Check out the last track, 'Stage III', subtlety at it's finest. 4 minutes 13 secs of chunk, ear splitting flange from one speaker to the next (if it's at the right volume your ears will actually pop!) and then just as the sweetness is fading out, "Yeah". Beautiful.
The driving force of Nick Oliveri's fatter than Albert bass coupled with Brant Bjork's drums smack's you about the back of the head. It's a bloodied mess and I love it! At times it sounds like Bjork's bass pedal is gonna explode out of your speakers! You might even notice that the bass sounds like someone is standing on your head… it's great how they can recreate a mosh in the studio!
Every track seems to roll perfectly, carrying you forward to the next. Wretch is an album that must be listened to from beginning to end, a journey to be undertaken right in front of your sub-woofer.
Before the band called it quits in 1995 they released four albums; 1991's Wretch, 1992's 'Blues For Red Sun', 1994's 'Sky Valley' and 1995's '…And The Circus Leaves Town'. Some would argue that Sky Valley is their best release and that Blues… is there heaviest, I guess that it depends on your view but I love the attitude of Wretch.
Wretch Track listing:
1: [Beginning Of What's About To Happen] Hwy 74
2: Love Has Passed Me By
3: Son Of A Bitch
4: Black Widow
5: Katzenjammer
6: Deadly Kiss
7: The Law
8: Isolation
9: I'm Not
10: Big Bikes
11: Stage III
~~~~~~~~~~~~~~~~~~~~~~~~~~~~~~~~~~~~~~~~~~~~~~~~~~~~~~~~~~~~~~~~~~~~~~~~~~~~~~
Review by .anthony moore. © 2002.
==============================================================================
It should also be mentioned that Chris Cockrell (Solarfest, Vic Du Monte as well as guest spots playing slide guitar and sax for Slo Burn, keyboards for Mars Volta) played bass on tracks 4 - Black Widow and 6 - Deadly Kiss.